The World's First AI Supercomputer in a Box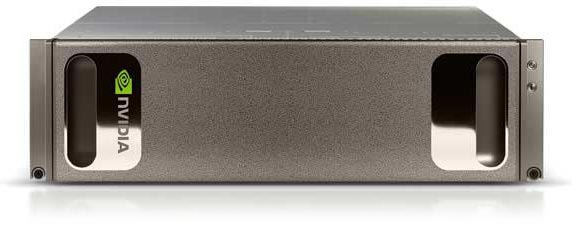 Data scientists and artificial intelligence (AI) researchers require accuracy, simplicity, and speed for deep learning success. Faster training and iteration ultimately means faster innovation and faster time to market.
Building a platform for deep learning goes well beyond selecting a server and GPUs. A commitment to implementing AI in your business involves carefully selecting and integrating complex software with hardware. NVIDIA DGX-1™ fast-tracks your initiative with a solution that works right out of the box, so you can gain insights in hours instead of weeks or months.
Effortless Productivity
Today's deep learning environments can cost hundreds of thousands of dollars in software engineering hours, and months of delays for the open source software to stabilize. With NVIDIA DGX-1 you're immediately productive, with simplified workflows and collaboration across your team. Save time and money with a solution that's up-to-date with the latest NVIDIA optimized software.
Supercharge Deep Learning Performance
The NVIDIA DGX-1 software stack includes major deep learning frameworks, the NVIDIA Deep Learning SDK, the DIGITS™ GPU training system, drivers, and CUDA® for rapidly designing deep neural networks (DNN). This powerful system includes access to cloud management services for container creation and deployment, system updates, and an application repository. The combination of these software capabilities running on Pascal-powered Tesla GPUs allows applications to run 12x faster than with previous GPU-accelerated solutions.
Iterate and Innovate Faster
High-performance training accelerates your productivity, which means faster time to insight and faster time to market.